Kitty Corner is our popular on-site, free roam cat shelter where potential adopters can spend time with the cats in a relaxed, living room-like environment and find the cat that best suits their lifestyle.
These cats are able to free-roam throughout Kitty Corner at all times, lounging in the sun and sprawling out on comfy beds, cat towers, chairs and perches.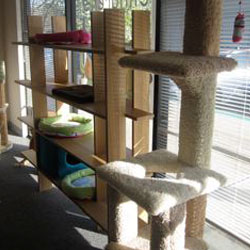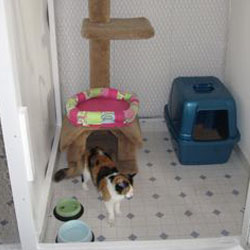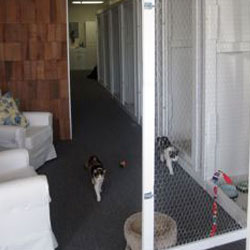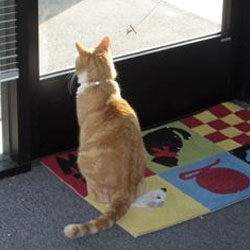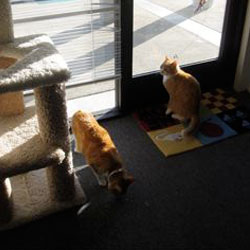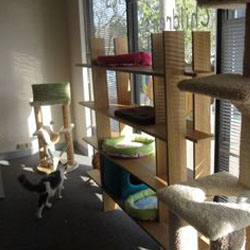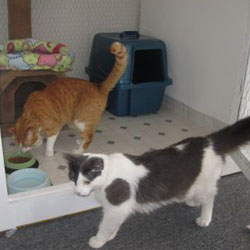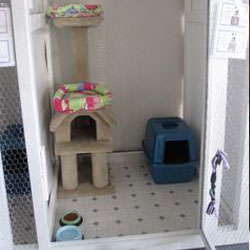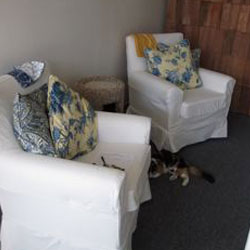 Why do we feel this endeavor is so important?
Simply put, until animal overpopulation is under control, many loving animals will continue to find themselves without a home. In particular, during kitten season, many wonderful adult cats are overlooked for smaller, newborn kittens and consequently, as kittens flood public shelters, adult cats are often euthanized due to lack of space and high competition. While Animal Services tries very hard to find homes for them all, the sheer number of animals surrendered makes this a very difficult feat. In addition, the current economy has meant that many more domesticated, friendly companion animals are surrendered while their families struggle to make ends meet.
In order to help animals in need within our own county, CCHS opened Kitty Corner in March, 2010. It is a first-of-its-kind partnership between a rescue organization and a public shelter within Contra Costa County that provides off-site, free-roam space for shelter cats.  Once properly vetted, cats who may be at risk of running out of time at Animal Services come to Kitty Corner, where they stay until they're adopted.  All of these cats are spayed/neutered, microchipped, vaccinated and FeLV/FIV tested (over 6 months of age) and are ready to go to their new home!
Seniors for Seniors Program
Animals provide comfort and companionship to us at any age, but the need can be especially important to senior citizens who may be separated from family, live alone, or be challenged with a medical condition.  Similarly, senior animals are often overlooked at shelters and passed by for younger versions, leaving them all too often to be euthanized.  Seniors pets provide companionship and affection that studies have shown to help decrease blood pressure, reduce cholesterol, and help ease symptoms of depression.  With age and experience comes wisdom and grace!
Each weekend, all senior cats at Kitty Corner who are 7 years and older can be adopted by senior citizens age 65 years and older for a reduced adoption fee (50%).  Standard adoption protocols apply.  Verification of age may be required.
Interested in meeting one of our Kitty Corner cats?
If you are interested in meeting any of the Kitty Corner cats available at CCHS, please view our available cats (please note that not all cats listed reside in Kitty Corner; some are in foster homes.  Each cat is specifically noted with location.).  Please click here for our most current adoptions hours and events.
If you do not see a cat that fits your needs, please view other cats available for adoption at Contra Costa County Animal Services (www.ccasd.org).
Interested in volunteering at or donating to Kitty Corner?
If you are interested in volunteering with Kitty Corner to help clean and socialize, please complete a volunteer application or call our volunteer department at (925) 279-2247, ext. 301.
If you are interested in making a donation to Kitty Corner, financial donations are appreciated, as are any of the following supplies:
New or slightly-used clean & disinfected cat towers
Nulo dry cat food (all flavors)
All brands of canned wet food (non-prescription, please)
Blue Buffalo walnut shell clumping cat litter
Clean, sanitized cat carriers
Unused cat toys